Two days ago I shared a brief history of the man/men who unwittingly lent their name to this holiday now associated with romance. Not sure how they would feel when one considered they had to be martyred first! You can read that post here: Will the Real Valentine Speak Up?
As fascinating as the stories behind Saint Valentine are, the logical question to ask is: How did we get from a lesser known saint amongst the thousands, to this day of lovers and romance that is celebrated practically everywhere? The credit seems to be equally shared by the medieval church's need to circumvent pagan holidays and rituals, and the poetry of Geoffrey Chaucer.
For some 800 years the ancient Romans celebrated Lupercalia on February 15. Dedicated to the god Lupercus, the various rituals attached had more to do with fertility and illicit sex than love. During this time there were also feasts to honor the goddess Februata Juno and god Pan, both associated with purifying and fertility. The observances were related and the customs varied from place to place, but one can easily imagine how ribald many became and why the Church would strive to eradicate the sinful practices, or at least lend an air of sweetness to them. The feast day for Saint Valentine that Pope Gelasius I established in 496 (*see previous post) was most likely as much, if not more, about the desire to place a religious tone upon the pagan celebrations than it was about honoring Valentine.
The concrete link for romantic love and Valentine is given to Geoffrey Chaucer. In 1382 he penned Parlement of Foules, a love poem to honor the engagement between England's Richard II and Anne of Bohemia.
For this was sent on Seynt Valentyne's day
When every foul cometh there to choose his mate
What is interesting here is that birds do not mate in February! Undoubtedly Chaucer knew this, so there is some speculation that he was not referring to February 14 but to May 2. This was the saint's day in the liturgical calendar of Valentine of Genoa, who died in May of 307. Others claim that it was a common misconception in the medieval world that birds began courting in February, so Chaucer was following standard beliefs and did mean February 14! Whatever the truth, the romantic nature of the poem stuck and became the launching point. From this time forward there are numerous French and English literary references to February 14 and St. Valentine's Day as a proper occasion for love letters and romantic tokens. On Saint Valentine's Day in 1400 the High Court of Love was opened in Paris specifically to deal with affairs of the heart: marriage contracts, divorces, infidelity, and beaten spouses.  The oldest known Valentine note still in existence today was a poem written in 1415 by Charles, the Duke of Orleans, to his wife, while he was imprisoned in the Tower of London following his capture at the Battle of Agincourt. In this French poem he refers to his wife as 'Ma tres doulce Valentinée.'
Literary references from this period include Cinkante Ballades by John Gower (a contemporary and personal friend of Chaucer), and the Paston Letters (late 1400s) by Dame Elizabeth Brews, where she writes about a perspective mate for her daughter being finalized on Valentine's Day. It is believed that King Henry V (1383-1422)  hired a writer named John Lydgate to compose his Valentine note to Catherine of Valois.
By 1600 Valentine's Day was an established part of English life. Shakespeare off-handedly mentions the day in Ophelia's lament to Hamlet–
To-morrow is Saint Valentine's day,
All in the morning betime,
And I a maid at your window,
To be your Valentine.
For several centuries poems and hand written love notes appear to be the extent of Valentine Day celebrating.  When did the holiday for lovers really take off and inspire the consumer-driven day we are familiar with? Come back on Wednesday for more information!
Scroll down to read my entry into the Hearts Through History Valentine Blog Hop that is ongoing all week. I am hosting a giveaway, as are 20+ other bloggers.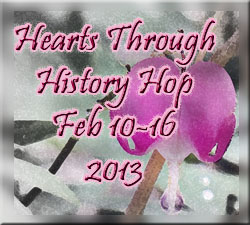 Starting today and running until the end of this week is the Hearts Through History Valentine Blog Hop hosted by fellow Austen Author Maria Grace. To celebrate this season of love, dozens of participating bloggers are sharing their favorite mushy anecdotes from history. What better way to get your fill of sentimental warm fuzzies? My story of "true love" is posted below, followed by the links to read others.
On top of that, there are GIVEAWAYS attached to each story on the blog hop! With romance the theme-of-the-week, I saw no alternative but to offer a signed copy of Miss Darcy Falls in Love and a DVD of the 2005 Pride and Prejudice as my prizes. Cool! The entry form is after the historical story I have chosen to spotlight. Have fun reading across the blog-o-sphere, and good luck in the contests!
There are hundreds of beautiful love stories told throughout history. Many are the stuff of legends with dubious facts behind them: Lancelot and Guinevere, Paris and Helen. Some are tragic: Pyramus and Thisbe, Mark Antony and Cleopatra. Others prove the enduring nature of true love: Queen Victoria and Prince Albert, Marie and Pierre Curie. All of them are fascinating and reveal the wondrous, unstoppable power of love.
I can't point to one real historical account of love that is my absolute favorite above all others since so many touch me in varied ways. Yet as I looked through a few lists of great historical lovers, the first one that stood out was the Biblical tale of Jacob and Rachel.
As told in Genesis, beginning in Chapter 29, Jacob – son of Isaac and Rebecca, and grandson of Hebrew patriarch Abraham – was sent to far away Haran near Ur, not only to escape the wrath of his twin brother Esau (A whole other story not the least romantic!) but also to find a wife amongst his mother's clan.
On the very day of his arrival, and while still introducing himself to the local shepherds, Jacob saw Rachel, a shepherdess, approaching. Clearly from the text as recorded by Moses, Rachel was exceedingly beautiful and Jacob was instantly smitten. Proving that men even so close to the beginning of human history instinctively knew that women can be impressed by brawn and selfless acts of kindness, Jacob singlehandedly rolled away the massive stone blocking the flow of fresh water from the well needed to hydrate the sheep.
I would bet money Jacob removed his shirt and flexed while he was at it! That is mere speculation, but what we do know from Scripture is that he was so overwhelmed by his emotions that he "kissed Rachel and wept aloud" (Genesis 29:11). Wow! A tough guy who is sensitive too!
Rachel was impressed, and lucky for Jacob she turned out to be the daughter of his mother's brother, Laban. Before a month passed, Jacob asked for Rachel's hand in marriage.
Now, at this point an argument can logically be made that Jacob may have been more in lust than true love. Whatever the case, when Laban's stipulation was that Jacob work with him for seven years to earn the right to marry Rachel, Jacob did not hesitate.
Genesis 29: 20 says, "Jacob served seven years for Rachel, and they seemed to him but a few days because of the love he had for her."
Wow again! Superficial physical attraction may have been the initial impetus, but it was the power of deep, soul-binding love that maintained their passion for each other.
If you know the story at all, then you know it gets even more interesting. At the end of those seven years Jacob married Rachel. Or so he thought. The custom of the day was for the bride to be heavily veiled and silent during the ceremony. It was not until the light of the following day that Jacob woke to realize that the marriage consummated in the darkness of night was not to Rachel, but to her eldest sister Leah!
Whole sermons are preached on the topic of Laban's treachery and Leah's deception. The point of this post, however, is the devoted, consuming love shared between Jacob and Rachel. I am sure Jacob had choices before him, however when given the option of working another seven years for Laban, Jacob again did not hesitate. Fortunately Laban agreed to allow Jacob to marry Rachel right away rather than at the end of those seven years. I suspect he would have waited if necessary, such was the purity of his love.
Jacob, Rachel, and Leah would encounter many trials and triumphs during their intertwined lives. Not all was blissful in this mixed household of two wives – one loved and the other not – two concubines, daughters, and twelve sons. Love sustained Jacob and Rachel through the difficulties, including years of her barrenness. God's Hand on their relationship is seen, mostly clearly in the special purposes fulfilled through the two sons they did create: Joseph and Benjamin. The eternal nature of their love is displayed in the pillar Jacob erected to mark Rachel's grave, that an unusual ritual for nomadic tribes of those days.
And now that I have shared my favorite love story, I want to hear from YOU! Enter my giveaway using the Rafflecopter form below, then be sure to visit the other websites on the Valentine Blog Hop. Links to all the blogs participating with love anecdotes and prizes are listed below the entry form. Deadline is Saturday, February 16. Also, my weekly giveaway of an advanced reader copy of The Passions of Dr. Darcy is ongoing and can be entered on the Giveaway Page. Don't miss out on that!
a Rafflecopter giveaway

Trying to identify the "real" Saint Valentine isn't as easy as you might think. There are several claims to the title of Saint Valentine, and so many legends swirling about that even the Roman Catholic Church could not decide, so ended up removing his feast day from their official calendar in 1969. Apparently the name "Valentine," or derivatives thereof, were fairly common. The root valens means "worthy" and was therefore a fitting name for one who gained sainthood. Even more surprising is that the historical facts dubiously support any romantic attachments to the actual persons who bore the name!
There are three men amongst the many, who legends and archeological artifacts support strongest as THE Valentine.
The first was a holy priest or Bishop in Rome, who assisted the escape of imprisoned Christian martyrs in the persecution under Claudius II. He also persisted in marrying couples, this an act forbidden to young men by Claudius because he wanted to keep his potential soldier stock unencumbered. Valentine was eventually apprehended for his "crimes" and sent to the Emperor of Rome, who was ineffectual in making him renounce his faith. The emperor commanded Valentine be beaten with clubs, stoned, and then beheaded. His execution occurred on February 14, 269. Since miracles must surround one who is named a Saint, there is a legend of questionable and much later dating that says Valentine restored sight to his jailor's blind daughter, and on the eve of his death penned a note to the daughter saying, 'From your Valentine.'
Another Valentine was a Bishop of Terni, consecrated by Pope Victor I in 197. A reputed evangelist, miracle worker and healer, he was imprisoned, tortured, and beheaded at night to avoid a riot by the Terni people who loved him. This occurred during the persecution of Aurelius, and also on February 14.
The Catholic Encyclopedia also speaks of a third saint named Valentine who was mentioned in early martyrologies under the date of February 14. He was martyred in Africa, with a number of companions, but nothing more is known about him. There are literally dozens of other listed Valentines scattered throughout the various ancient annuls of the church, with many dates given besides February 14.
The first two are the top candidates for the position, and there are some scholars who lean toward the idea that these men were the same fella. However, that does not appear to be the most popular belief. There are enough ancient inscriptions, notes among the Acta of the Catholic Church written by both men and written by others about them, as well as the legends, to support the probability of them being different people. In both these cases it was love for their Christian faith that drove them to martyrdom and led to their honoring. Archeologists have found a number of ancient catacombs that bear the name Valentine. There are also several churches bearing the name Valentine. In the Middle Ages, two Roman churches were dedicated to Saint Valentine. One was the tenth-century church Sancti Valentini de Balneo Miccine or de Piscina, which was rededicated by Pope Urban III in 1186. The other, on the Via Flaminia, was the ancient basilica S. Valentini extra Portam.
The feast of St. Valentine was first established in 496 by Pope Gelasius I, who included Valentine among those "… whose names are justly reverenced among men, but whose acts are known only to God." As Gelasius implied, nothing definitive was known, even then, about the lives of any of these martyrs. The legends and facts were so intermingled, and impossible to adequately decipher, that the official commemoration for universal liturgical veneration for Saint Valentine was removed from the Roman Catholic Calendar of Saints in 1969. Nevertheless, many areas where specific remains or inscriptions to Saint Valentine are found still laud his day with religious observances.
So, as fascinating as all this has been, how did we get from a lesser known saint amongst the thousands to this Day of lovers and romance that is celebrated practically everywhere? Bet you are dying to know! Tune in on Monday for the Rest of the Story.
I am a serious sucker for romantic movies! Period dramas or contemporary, I adore them all. Finding a few to share for Valentine's Day was tough when there are so many fabulous montages created by clever people, but here are a couple I especially enjoyed. Can you name some of the movies and TV shows highlighted?
A wonderful period drama montage with lots of Jane Austen in there!

How many movies can you name? I spied many of my favorites: Pride and Prejudice, North and South, Moulin Rouge, Titanic, Knight's Tale, Ladyhawke, Jane Eyre, Little Women, Atonement….
A wonderful collection of TV and movie kisses. Love it!

Lots of both mixed in there! I spied my favorites: Veronica Mars, Friends, 13 Going on 30, Never Been Kissed, Alias, Sixteen Candles, Only You….
Feel free to share links to some of your favorite romantic movies or best TV kisses. Then find your special someone and give him/her a big juicy kiss!
Happy Valentine's Day! 
LORI GODEY
This week's winner of an advanced reader copy of
The Passions of Dr. Darcy
signed by me!
Lori joins June and Cherri in the winner's circle! Three winners down, FIVE more to go! Lots more chances to grab an early copy of my upcoming novel. Visit the Giveaway page to enter the Rafflecopter form. Any of the possible point options not only increase your chances, but also help me to spread the word about George's story. I can't thank you all enough for that.
And now, since we are amid the season of love, here is a short excerpt from The Passions of Dr. Darcy where we see George experiencing an enchanted moment. Enjoy!
*  *  *
"Losing my temper is counterproductive, no matter how good it might feel to bash Dr. White's teeth loose or knock him onto his fat, useless ass—"
The double S morphed into a sound resembling a hissing snake as they rounded the corner to be drawn to a halt in words and momentum.
Standing not two feet away from George was Miss Chambers. She was leaning against the flat railing at the corner of the veranda, one hand wrapped around a curved post and the other toying with a diamond pendant hanging from the velvet ribbon encircling her slender throat. She was staring straight into his eyes, a small smile dancing on her lips, and instantly George knew that she had not only heard his diatribe but agreed with his vision of Dr. White sprawled onto his backside.
Later Dr. McIntyre would compliment George on his lack of embarrassment and swift recovery. In all honesty, George was not one to easily embarrass, and rapid reflexes—mental and physical—were a gift he possessed. Therefore, he did not flush, nor did he bow as would be proper, the latter sure to break the eye contact he had craved from the moment he had noticed her in the hallway above. Instead, he flashed her a cocky grin and winked, the combination widening her smile and adding a shine to her eyes. Beautiful eyes a grayish-green with flecks of amber around the iris. 
"My lady," he drawled, "I do apologize for the crude language and ungentlemanly references. I am a physician honor bound to heal, not inflict, so I assure you the scenario was pure fantasy."
"I believe your oath never to harm another binds you only in regard to one who is already a patient, so none shall convict you if your fantasy is acted upon." She spoke softly, almost as if talking were a foreign occupation, but blurted the sentence with conviction.
George's left brow rose. "My, and I thought I disliked the man! It seems you and I have something in common, my lady. I am intrigued."
Sarah's cheeks flamed, her smile faded, and she stepped back a pace while diverting her eyes. Unconsciously, George leaned closer, the widened gap between their bodies unwelcome.
"What I should say," he whispered, "is that I am fascinated. I was intrigued when I saw you outside Commander Doyle's office before."
She kept her head bowed but stole a glance at his face. It wasn't much, George able to catch the minutest hint of emotion from the corner of her gray eyes, but it verified what he had sensed in the corridor above. With no wish to frighten her, George straightened and pulled away. McIntyre chose that moment to subtly clear his throat. George had momentarily forgotten they were on a tight time schedule. He did not remove his eyes from Miss Chambers, but nodded for McIntyre's benefit.
"Perhaps we shall encounter each other at upcoming social events. If my good fortune continues, we may discover other opinions we have in common. I shall pray for the opportunity, my lady. By the way, my name is Dr. George Darcy. This uncharacteristically silent gentlemen is a colleague, Dr. McIntyre." George paused and indicated the Scotsman, McIntyre tipping his hat toward Miss Chambers, who acknowledged with the faintest of nods. "May I be so bold as to request the honor of your name?"
He watched the rosiness on her cheeks increase. She swallowed, her lips parting a second later as if to speak. George did not move; time suspended as he waited for her response. Another swallow and quick glance upward into his warm eyes and relaxed grin was followed by a barely audible, "Sarah. Sarah Chambers."
"Sarah Chambers," he repeated, speaking gently and caressing each syllable. Slowly, she lifted her gaze to again engage his eyes. "It is a pleasure. I can imagine nothing more delightful than passing the afternoon in your company, Sarah Chambers, but alas we are ordered to leave within the hour so I must hasten away. I shall return and will seek you out. After all, I must unveil the mystery of a woman with such exceptional judgment in character." He was thrilled when she chuckled and nodded her head.
Finally he bowed deeply, wished her a good day, and turned away, McIntyre falling into step. George did not look back until off the terrace and several yards across the open courtyard. The distance was not too great for him to see the serious cast to her face and to note the bewildered expression in the eyes that followed him. He flashed another wide grin and waved his hand, expecting her to flush anew and turn away. To his surprise, her lips curved in a tentative smile and her hand lifted to return his wave.
I hope you enjoyed that wee peak. There are more excerpts located HERE.
To pre-order The Passions of Dr. Darcy, head over to Amazon or Barnes & Noble. Release date April 2 ~ less than two months away! 
    ~ Cherri Trotter ~
Yeah!! Cherri Trotter is this week's lucky winner of an advanced reader copy (ARC) of The Passions of Dr. Darcy. Whoot! Chosen by random.org and the Rafflecopter form, Cherri will very soon have my upcoming April release in her hot hands. I am confident she will absolutely love it!
As a reminder, I am giving away one ARC, signed by me, each week through March 12, 2013. Entries are open to US & Canada addresses only *sorry* and there are numerous ways to enter, some that can be done multiple times (such as Twitter and Facebook shares, or leaving reviews at online retailers, etc.) Use the form below. Huge thanks to Cherri and June A – the two winners so far – and to each and every last one of you who have helped me by spreading the word of The Passions of Dr. Darcy. With your dedicated support, I am able to continue writing about all of the Darcys and their friends!
a Rafflecopter giveaway

Today is a special day in the world of Austen lovers: It is the 200th anniversary of the publication of Jane Austen's "darling child" Pride and Prejudice! 
Bloggers all over the web are sharing their love for Pride and Prejudice today. Indeed it is a BIG event! Lots of fun & lots of giveaways! I am going to share my thoughts and other fun bits in a moment, but let's begin with a short history lesson. According to Wikipedia (and cross-referenced at several other places for accuracy) here are the facts–
Austen began writing the novel after staying at Goodnestone Park in Kent with her brother Edward and his wife in 1796. The novel was originally titled First Impressions, and was written between October 1796 and August 1797. On 1 November 1797 Austen's father sent a letter to London bookseller Thomas Cadell to ask if he had any interest in seeing the manuscript, but the offer was declined by return of post.
Austen made significant revisions to the manuscript for First Impressions between 1811 and 1812. She later renamed the story Pride and Prejudice, possibly to avoid confusion with other works. In the years between the completion of First Impressions and its revision into Pride and Prejudice, two other works had been published with the original name: a novel by Margaret Holford and a comedy by Horace Smith.
Austen sold the copyright for the novel to Thomas Egerton of Whitehall in exchange for £110 (Austen had asked for £150). This proved a costly decision. Austen had published Sense and Sensibility on a commission basis, whereby she indemnified the publisher against any losses and received any profits, less costs and the publisher's commission. Unaware that Sense and Sensibility would sell out its edition, making her £140, she passed the copyright to Egerton for a one-off payment, meaning that all the risk (and all the profits) would be his. Jan Fergus has calculated that Egerton subsequently made around £450 from just the first two editions of the book.
Egerton published the first edition of Pride and Prejudice in three hardcover volumes in January 1813, priced at 18 shillings. Favourable reviews saw this edition sold out, with a second edition published in November that year. A third edition was published in 1817. It was translated into French in 1813.
For more information on Jane Austen, read the Biography I wrote here on my website, and then check the "links" page for additional Austen websites.
My story~~
My appreciation for Pride and Prejudice, and then Jane Austen, came later in my life and was not originally inspired by the novel. My first initiation into the world inhabited by Fitzwilliam Darcy and Elizabeth Bennet was the 2005 movie adaptation by Joe Wright, starring Matthew Macfadyen and Keira Knightley. I anxiously walked into the movie theater over Thanksgiving weekend in 2005 not because I was enthused about an Austen adaptation, but simply because I adore period movies and love stories. I was excited about the movie, true, yet did not anticipate it being a turning point in my life. Everything about the movie knocked my socks off – the acting, cinematography, music, story, all of it! I thought it was Fabulous! An obsession to learn more about the movie creators immediately drove me to the internet. Fortuitously, my daughter returned to school after the holiday break and began reading Pride and Prejudice in her AP Literature class. What a boon! I bought a copy, and together we read the novel and conducted her class studies together. From there it was one snowballing step after another, the story of my immersion into writing and Austen told in greater depth on the About Me and FAQ pages. For me, love of Austen and this novel go hand-in-hand with love for the movie. I no longer apologize for this. One does not have to be mutually exclusive from the other, which is why my novels blend the visuals and altered interpretations from the movie with the story as written by Jane Austen. I love and revere both!
YouTube is replete with videos clips from the various cinema adaptations, humorous outtakes, novel recitations, and so much more. Personally I never tire of the numerous montages created of scenes from the 2005 movie version. My absolute favorite plays to the song, "It is You I Have Loved" by Dana Glover and can be watched on YouTube here: http://youtu.be/GPpfb3_EFtQ
Another fabulous montage playing to Alison Krauss singing "When You Say Nothing at All" can be viewed here: http://youtu.be/9XXBAydMdKU
http://youtu.be/XGmCZnliYmg  Matthew Macfadyen reading from Pride and Prejudice, Mr. Darcy's first proposal. Yummy! Link from there to other MM readings of P&P.
http://youtu.be/IVyYEmlASfw  Pride and Prejudice in 100 Seconds. Pretty funny!
http://youtu.be/gTchxR4suto Pride and Prejudice and Posh Dancing. Mr. Darcy doing the conga?
In my Portrait Gallery I have image albums for each of my novels, Regency, Georgian, and Indian fashion, and also an album of stills from the 2005 movie adaptation of Pride and Prejudice. On top of that I have a wonderful collection of publicity photos and film shots of Matthew Macfadyen! Check it out: Sharon Lathan's Portrait Gallery
Jane Austen and Pride and Prejudice have withstood the passage of time and are stronger than ever. What other author has persevered for as long, amassing an ever-increasing number of fans and spawning a plethora of cinema adaptations, fan-fiction novels, merchandise, websites, scholarly societies, a whole romance genre, and so much more? I can't think of a one!

Lots of Austenesque bloggers are celebrating this week. Check out the HUGE event hosted by fellow Austen Author Alyssa Goodnight – author of Austentatious and Austensibly Ordinary – and Stiletto Storytime by clicking the image to the right. Loads of giveaways from authors and bloggers all over the web!
To add to the fun, I am including one copy of my debut novel, Mr. & Mrs. Fitzwilliam Darcy: Two Shall Become One, an eBook version (Kindle or Nook), to one lucky person! Just comment on this post, telling me when you first read Pride & Prejudice and who your favorite character is. Deadline for this giveaway is January 31, 2013, but of course my ongoing weekly giveaway for an ARC of The Passions of Dr. Darcy won't end until March!
FABULOUS news to share! Over the past two weeks both Abigail Reynolds and I were interviewed (along with lots of other people, as you will see) for a Wall Street Journal article celebrating the enduring passion for Jane Austen. On the eve of the 200th anniversary of the publication of Austen's "darling child" – that being Pride and Prejudice, which was released on January 28, 1813 – everyone is talking about Austen, even the Wall Street Journal! I was especially fortunate to casually mention the memorabilia I have collected, most of them gifts from my wonderful fans, and the reporter Alexandra Alter was so intrigued that I scored a photo shoot! Talk about surreal. Photographer Annie Tritt – her website here – drove over 3 hours from San Francisco and spent nearly 3 hours snapping pictures in my modest office. At the behest of Annie and my husband Steve, I donned my favorite Regency ballgown and did my best Top Model impression while we chatted between poses. LOL!
The article posted today. Yeah! It is a marvelous article well worth reading for the wealth of Jane Austen information and love that is relayed. Alexandra Alter certainly did her homework and wrote a stunning narrative. I am honored to be mentioned, and super thrilled to have my picture featured. Unbelievable!
Unless one subscribes to the Wall Street Journal online, accessing can be tricky. The direct link does not work. You can read the article, but here is what you have to do:
1. Go go Google and type in "Wall Street Journal Austen Power"
2. Click the  first link that comes up. If it does not work, try again, or go to another browser. Eventually you will be able to access the full article and video.
The article is also in the print version of the Wall Street Journal, in the "Arena" section. It is exactly the same written article, but with many more images. Just in case you can't access the article either way, I have screenshots of the online version and scans of the print. Click the thumbnails below for a bigger view.
Screenshots of online version of "Austen Power" by Alexandra Alter–
Scans of pages from the print version of "Austen Power"–